Kaya Optics, Inc., having specialized in manufacturing special optical filters and devices, would like to take this opportunity to introduce a newly developed product called the "IR X-Ray See Through Filter PF". The PF is a special optical device that helps to visually penetrate an object's surface in order to view whatever lies below. The PF makes it possible for you to see images that are normally invisible to the human eye. It sounds like science-fiction but it isn't; this fantastic new product has been developed using the most highly advanced optical technologies available. From here on in, we would like to show you the amazing results of the PF. Armed with sufficient knowledge, you will be able to experience the real power of the PF for yourself.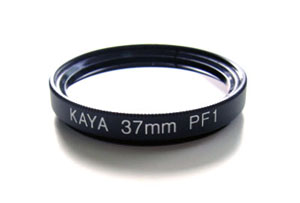 The 37mm PF1 is shown here. As its appearance suggests, it is not able to achieve much by itself. In order to demonstrate the PF's capabilities it must be used in conjunction with compatible viewing equipment, such as a camcorder. In fact, any equipment containing a CCD ("Charge Coupled Device") is a candidate for a working "See-Through" system. You can read all about the role of the CCD in the How It Works section. Below is a picture of a standard home camcorder equipped with the PF.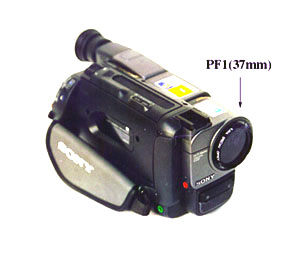 The PF can be used in huge number of situations, depending on the user's aims. You may not yet appreciate what the PF is capable of, but remember this: a PF can reveal objects which are otherwise invisible to the human eye. That is, the PF can penetrate many object's outer surface and reveal what lies beneath.
Actually, the uses of the PF are unlimited. Even though the PF can't totally penetrate all surfaces, in many cases it can provide some degree of "see-through" ability. You will be amazed with the power of the PF if you take the time to experiment and experience its capabilities for yourself.